Date 07/13/2015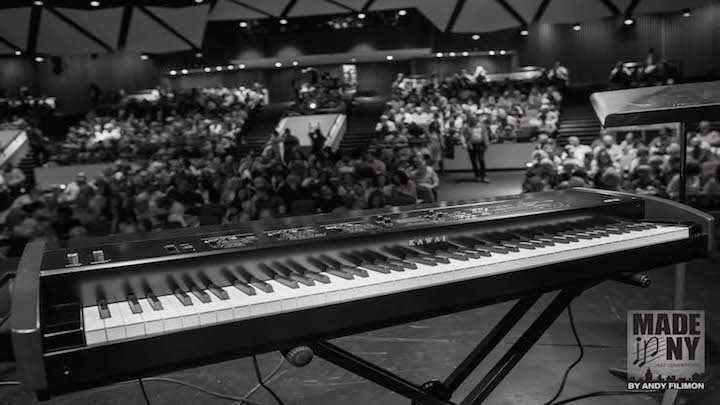 Made in New York Jazz Gala Holds Very Successful 2015 Gala Featuring Amazing International Performers in the Fully Booked Tribeca Performing Arts Center
The long anticipated Made in New York Jazz Gala Concert was held on June 27th, 2015. The attendees confirming that it was a smash success by standing ovations , tremendously entertaining and exceeded the highest expectations of all involved.
The world of jazz is very much an international one, where the popular music speaks something of an international language. This could certainly be seen celebrated very recently, in New York City, where the 2nd annual Made in New York Jazz Gala Concert was held on June 27th, 2015. Gathering a large number of jazz greats, including amazing performers Randy Brecker, Alex Blake, Bobby Sanabria and Art Director of the competition Yaacov Mayman performing to a very full house. Also featured were the winners and finalists of the Made in New York online jazz contest who came from across the world, stayed in New York for over a week to explore the jazz culture and ultimately performed onstage alongside the jazz giants.
"We couldn't be more pleased at how well our 2nd Made in New York Jazz Gala turned out," commented Misha Brovkin the founder of Made In New York Jazz Competition. "We had very high expectations and they were met across the board, from our performers, the winners and finalists of our online contest and the high quality, amazing jazz fans who attended the concert. We're counting the days until next year's gala!"
"Made In NY jazz competition is a fantastic program celebrating its third year of existence. It's a contest open to anyone of any age, from any part of the World. Contestants submit a video and are judged by a panel of experts that this year included, amongst others, jazz legends Lenny White, Joe Lovano and Randy Brecker. NY based tenor saxophonist, flutist, composer, arranger Yaacov Mayman (a tenant deserving of wider recognition) is an art director of the competition and he asked Yours Truly, to be part of this years gala. The concert was a total success selling out." says multi Grammy nominated artist Bobby Sanabria
According to the Gala, performers were selected from number of categories. The artists proudly represented the United States, Israel, Germany, Turkey, Bosnia and Herzegovina, England and Croatia.
The registration for 2015 Made in New York Jazz competition is open.