Johnson, Jr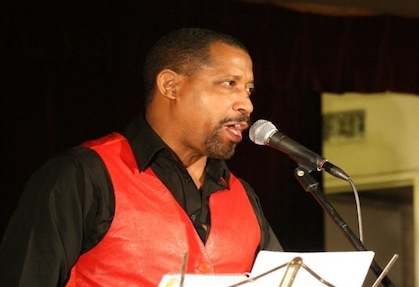 Throughout the 80's George was mentored and performed regularly with "James Moody & Lou Donaldson". Two of the greatest saxophonist in the history of Jazz. His close association with Moody led to many Local & National Live Radio and Television Broadcasts, Carnegie Hall Kool Jazz Festivals, Town Hall Tribute to Charlie Parker w/Strings arranged by Barry Harris, South Seaport Jazz Festival, clubs throughout NYC including: Sweet Basil, Bottom Line, 7th Avenue South, Village Vanguard, Village Gate, Grand reopening of Live @ the Apollo' Apollo Theatre, yearly Grant's Tomb, Jazz Mobile concerts throuhout NYC NJ, Phila. Wash DC., P.A., Indiana, Ohio, Mt. Vernon NY, Binghamton NY, Springfield Ma., & Hartford Ct.
Also an accomplished actor, he's appeared in the Soldier's Play, Mighty Gents, Hollywood Hussle, My Mark My Name, Garvey, Trials & Tribulations of Stagger Lee Booker T Brown, with Ricky Payton they penned the lyrics for "Santa"s Starship and more.
In 1979 with Howard University, he Premiered in a 6 month European Tour of the Broadway Musical "RAISIN" and the "SOUL OF SOUL", playing sold out performances at Stat Theatre?s throughout Switzerland in St. Gallen, Geneva, Zurich, Bern, Luzerne, Basel, Lugano, Liechtenstein including three months in Paris, France.

Johnson says, playing with Donaldson Lou was like singing with Charlie Parker. He was able to sing all his "BIRD" lyrics while Donaldson would play along while he sang the solo's note for note. Being on stage with Lou Donaldson was one of the greatest feelings you could imagine. They first met in 1975 at the Pigfoot Jazz Club located in Washington DC when Donaldson dropped by to see longtime freind and pianist John Malachi. It was there where they both met and played together on "NOW"S THE TIME". Whenever George shows up at his concerts unannounced, Lou doesn't hesitate to bring him up to sing.

In 2003, George V Johnson Jr. was commissioned by Don Sickler of Second Floor Music to pen lyrics to the music of jazz legend and saxophonist, Hank Mobley. Since taking on the project Johnson has skillfully, completed over 40 of Mobley's classic compositions and still counting. Some with complete solo's. Critics are already saying this is one of the most important and extensive projects to be presented to the public from the jazz vocalese realm in many, many years. With Jazz Vocalese, still in a state of infancy, Johnson has almost single handedly kept the vocalese dream alive as exemplified from his performances presenting the Music of Hank Mobley. A feat unmatched by any of his peers in jazz music. His lyrics are well rounded, beautifully written and a classic work of art. In the spirit of Eddie Jefferson, Johnson's a modern day "GRIO" telling stories our ancestors would be very proud of.