Date 10/07/2013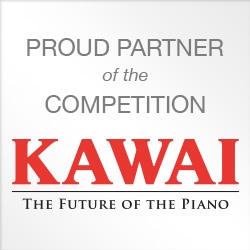 KAWAI AND THE MADE IN NEW YORK JAZZ COMPETITION—FOSTERING THE NEXT GENERATION OF INTERNATIONAL JAZZ TALENT
New York, October 7, 2013 — FOR IMMEDIATE RELEASE — The Made in New York Jazz Competition is delighted to announce KAWAI USA—the future of the piano®—as a partner with the first annual Made in New York Jazz Competition. This significant corporate partnership between the Made in New York Jazz Competition and KAWAI Musical Instruments USA will help promote and nurture the next generation of global jazz musicians. The Made in New York Jazz Competition and KAWAI USA are together helping great jazz artists achieve international exposure.
We welcomed the collaboration of the premier musical instrument manufacturer, which will award the elegant KAWAI ES7 Portable Digital Piano and the powerful KAWAI MP6 Professional Stage Piano to the Competition's second and third-place finishers.
"We are thrilled to welcome such an elite corporate partner as KAWAI," says Misha Brovkin, founder of madeinnyjazz.com. "We are grateful that KAWAI recognizes such innovation in promoting global jazz talent and we heartily welcome their participation. Together we will promote the next generation of global jazz talent."
The international jazz scene has been transformed since the launch of the Made in New York Jazz Competition in March 2012. Harnessing advanced Internet technologies and strategically deploying social media initiatives, the innovative competition has generated over 12,000 registered users and participants from over 35 nations.
The madeinnyjazz.com website has since become an international jazz hub for fans, musicians, enthusiasts, recording producers, and the international jazz media to discover talents. As a catalyst for transformation, the Made in New York Jazz Competition has provided a forum, through its high-traffic website, for showcasing rich and diverse jazz talent to the entire world.
"Our online competition has shattered geographical barriers," says madeinnyjazz.com art director Yaacov Mayman. "The world will now get to discover jazz that it never had access to—this is a transitional moment in the history of music."
The winner receives a cash prize—which corresponds to the amount of entrants and grows daily.
About KAWAI Musical Instruments USA—the future of the piano®
KAWAI is the internationally regarded creator of elite pianos. KAWAI has always represented the highest levels of piano craftsmanship since its founding by Koichi Kawai in 1927 and the later establishment of the KAWAI America Corporation in 1963. KAWAI's sterling global reputation for creating instruments of perfection rests upon our history, which has been shaped by generations of commitment, and is dedicated to the pursuit of perfection for generations more to come.