Escoffery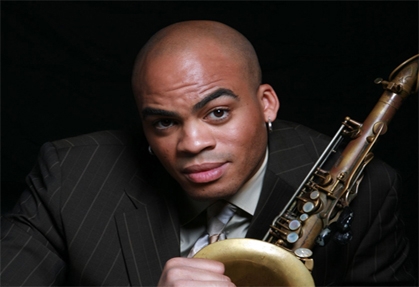 Wayne Escoffery
Since moving to New York City in 2000, Grammy Award winning tenor saxophonist Wayne Escoffery has become one of the Jazz world's most talented rising stars and in-demand sidemen. He has recorded six studio dates as a leader, two as a co-leader and been on numerous other recordings. He began his professional career touring and recording with The Eric Reed Septet. Since then he has been a member of many groups including The Mingus Big Band, Orchestra and Dynasty, Ron Carter's Great Bigband, Abdulah Ibrahim's Akaya, The Ben Riley Quaret and Jazz At Lincoln Center's "Music of the Masters" consisting of two groups of musicians hand picked by Wynton Marsalis to perform the music of Jazz legends Dexter Gordon and Miles Davis. In 2006 Wayne secured one of the most coveted gigs in jazz: a frontline position in
Tom Harrell's working quintet. He is currently a member of the quintet and to date has recorded five CDs with the group and co-produced Harrell's last four releases Prana Dance, Roman Nights, The Time of the Sun and No. 5 . In addition to being a part of some of the last true "apprenticeship" opportunities of our era, Wayne leads his own quintet featuring five year Miles Davis Band veteran Adam Holzman, and has a new recording out with the group on Sunnyside Records titled
The Only Son of One. The vast array of contributions Wayne has made to the Jazz world in such a short time leads seasoned industry professionals like Niel Tesser to write "Pay special attention to tenor man Wayne Escoffery, whose rapid development - from album to album (and seemingly solo to solo) - has given us a jazz hero for the coming decade.
Wayne Escoffery's new improvisation method book:
"A PRACTICAL METHOD OF PLAYING CHANGES"
"A Practical Method of Playing Changes" is a method book meant as a clear and practical guide for improvising over common chords and chord progressions, and for developing fluency in all the keys. Many of the tools discussed in this book were taught to Escoffery first hand by master improvisors such as Barry Harris, George Coleman and Jackie Mclean. The book also includes some devices that Wayne has come up with over the years to facilitate comfort in playing through chord changes.
Download for Kindle at: http://www.amazon.com/dp/B00B7TFWCO
Get the Hardcopy or download for iPad, Nook and other ereaders at: http://escofferymusic.com/teaching.html#book
Get Wayne Escoffery's latest CD "The Only Son of One" Sunnyside Records:
https://itunes.apple.com/us/album/the-only-son-of-one/id511198619
http://www.amazon.com/Only-Son-One-Wayne-Escoffery/dp/B007BS0YR8/ref=sr_1_1?s=music&ie=UTF8&qid=1331568934&sr=1-1