5th Anniversary Made In New York Jazz Festival / Montenegro 2020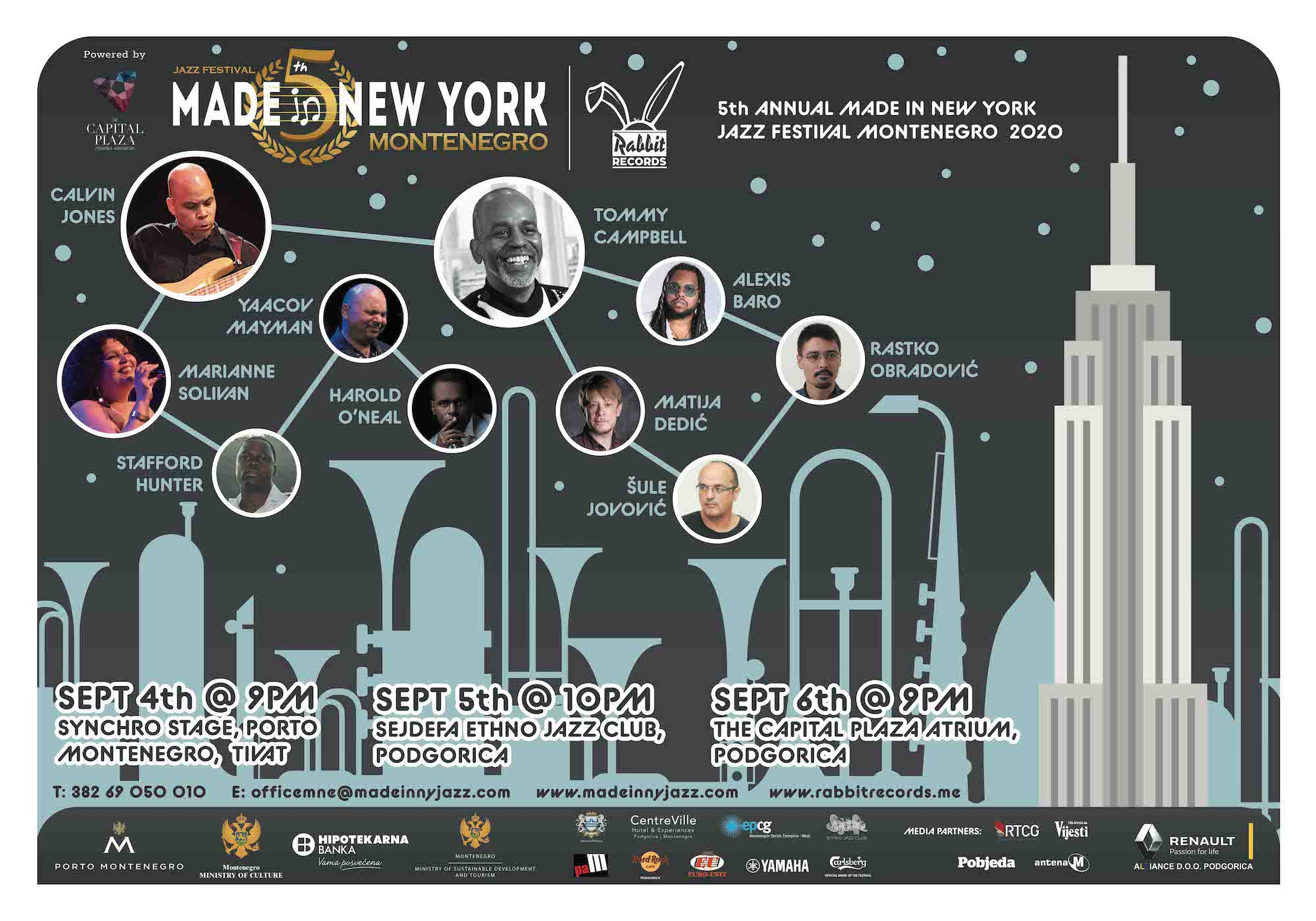 Made in New York Jazz Festival Montenegro, powered by Capital Plaza, celebrates its 5th anniversary. Together with it's partner company Rabbit Record the festival presented another never seen before lineup of musicians, including legendary artists for the US and famous musicians from the Balkans.
In spite of these unprecedented times around the world brought about by the COVID-19 pandemic, the Made In New York Jazz Festival was able to make history when the festival was held in Montenegro from Sept. 4-6.
For the first time in history of Montenegro, the entire Festival was broadcasted live from both locations on national television RTCG during prime time. Music lovers in the Balkan region and from around the world were able to watch and enjoy the performances streamed live on YouTube as well.
The three-day festival kicked off with the celebration of the 100th anniversary of Charlie Parker, legendary Jazz icon of the 20th century in Tivat City. The festival also celebrates its 2nd year of partnership with one of the most prominent resorts on the Balkans, Porto Montenegro, by opening the festival with its first show on Synchro Stage.
The second day of performances held in the "Sedjefa Ethno Jazz Club" included special guests "Reunion Funk Band" from Belgrade. After the show, the audience had an opportunity to enjoy the jam session with local musicians and the guests of the festival.
The final day of the festival was held in atrium of Pordorcia's Capital Plaza, main partner of the Festival for the past years. The festival concluded with a dedication to Dizzy Gilespie.
Hosted and produced by Michael Brovkine & Vladimir Maraš
This year lineup included: Tommy Campbell (Usa), Calvin Jones (Usa), Stafford Hunter (Usa), Marianne Solivan (Usa), Yaacov Mayman (Usa), Matija Dedic (Croatia), Rastco Obradovic (Serbia) Sule Jovovic (Montenegro), Vladimir Maras (Montenegro), Sara Jovovic. ( Montenegro), Ljubiša Paunović Paun (Serbia), Mirko Sokolović (Serbia) , Dejan Hasečić (Serbia), Željko Janković (Serbia), Filip Bulatović (Serbia)