Made in New York Jazz Competition and Festival gives a Look into the Future of music TV through Partnership with Strimm Television 2.0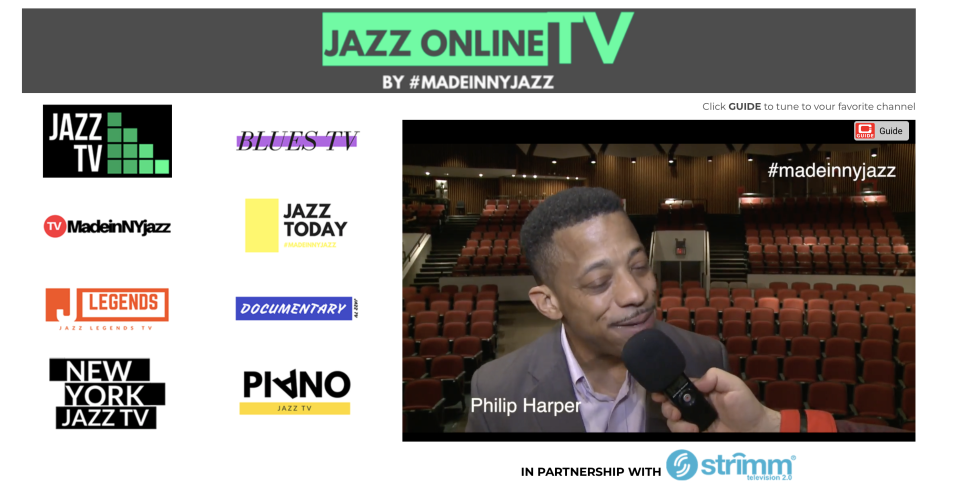 Made in New York Jazz Competition, has joined forces with STRIMM TV. Strimm provides an exceptional combination of linear TV features with online videos, which lets anyone to create TV channels that can be added to any platforms. STRIMM is changing TV industry by allowing organizations of any size to have their own, pre-scheduled 24/7 broadcast on their websites that helps to attract new users and allows to monetize their content.
"We are thrilled about this unique cooperation" comments Competition's founder, Misha Brovkin. "I'm always excited to introduce new technologies to our community! I think musicians today, are the most advanced users because they are very familiar with software and use lots of tech to promote their music. Having said it, our TV channels are very simple to use and they are FREE. Just click and watch!"
The cooperation between STRIMM and Made In New York Jazz Competition adds another layer of great services provided to the international jazz community.
"New York Jazz Online Competition provides a unique opportunity to the talented musicians around the world. We are excited that we can be a part of it" says Dmitry Kochman, a founder of Strimm, Inc. "The TV industry remains the most powerful entertainment medium in history. We are proud that we are helping businesses and individuals from over 160 countries in creating their own linear TV Networks and growing their brands fast"
The Made in New York Jazz Competition and festival celebrates it's fifth year in 2017 . Featuring a worldwide audience of jazz fans, as well as a slate of musicians from over 55 countries, the Made In New York Jazz competition made its mark on the Internet as the first-ever online jazz contest. Now, Made In New York is number one online jazz competition on Google, Bing and Yahoo - out of millions results. Made in New York Jazz Competition will celebrate it's 5th annual jazz gala in New York in May 2018