September 2021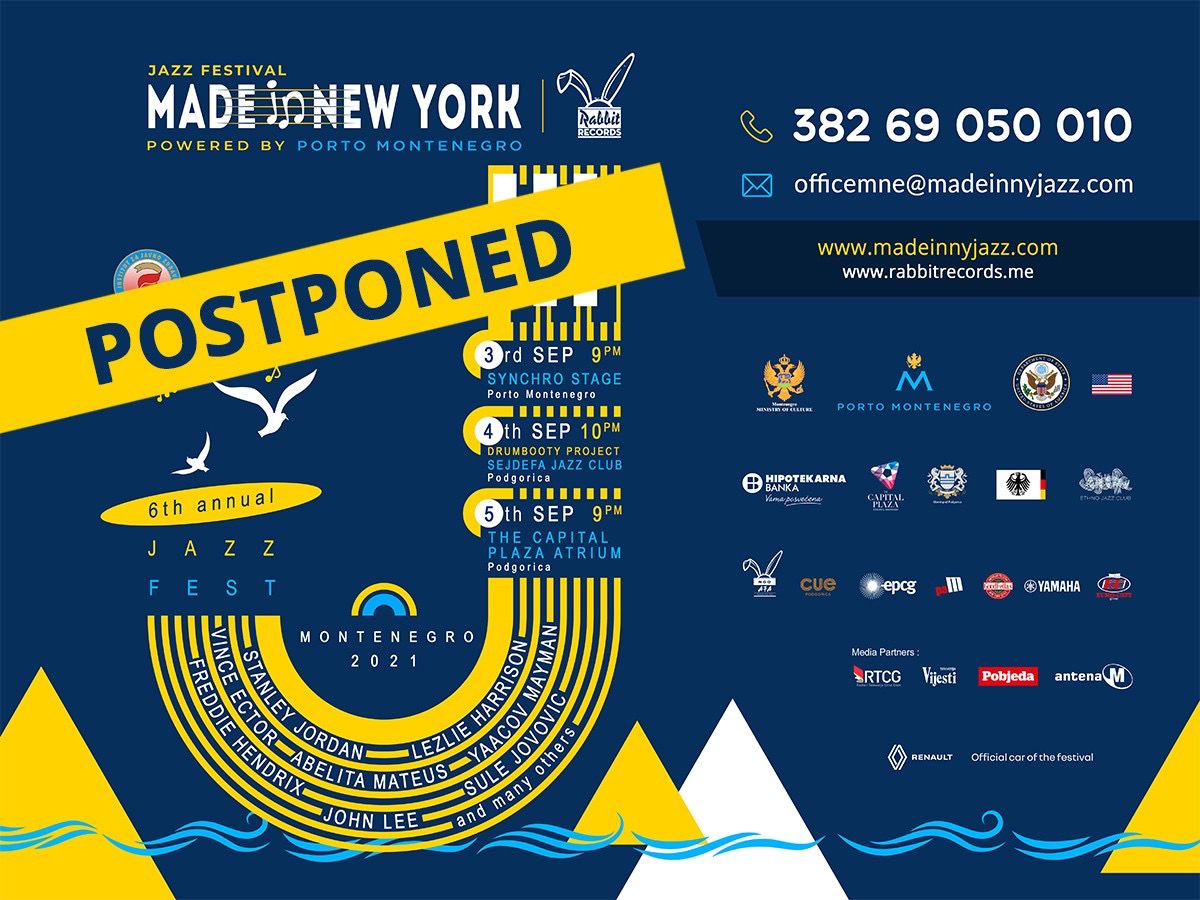 Dear friends,
Due to the current health situation in Montenegro and the recent announcement by CDC regarding COVID-19, which poses a health risk to our artists and our guests, and causes travel complications for our performers, as well as everyone involved in the organization of the Festival – after careful consideration we made a decision to POSTPONE the 6th Made in New York Jazz Festival, Montenegro 2021.
The new dates have already been set to June 16-19, 2022, merged with the 7th Made in New York Jazz Festival scheduled on June 23-26, 2022 – which makes it our most exciting and the biggest Jazz project to date.
Mark your calendars and stay tuned! We will be announcing more details soon. See you in 2022 for the greatest 10-days of Jazz summer adventure!
Yours,
Made in New York Jazz Festival team
Ministry of Culture of Montenegro
U.S. Embassy Podgorica
Hipotekarna Banka
The Capital Plaza
Glavni grad Podgorica
Deutsche Botschaft Podgorica / Njemačka ambasada u Podgorici
Ethno Jazz Club Sejdefa
NGO Action For Art
CUE Podgorica
Elektroprivreda Crne Gore
PAM CG
Goodfellas
Porto Montenegro
Euro-Unit Montenegro
RTCG Portal
Vijesti
Pobjeda
Portal Antena M
Renault Crna Gora
Spectacular 6th annual Made in New York Jazz Festival Montenegro with jazz legends
Stanley Jordan, guitar,
Lezlie Harrison, vocals
Vince Ector, drums
Abelita Mateus, piano
Yaacov Mayman, tenor saxophone
Freddie Hendrix, trumpet
John Lee, bass
Vladimir Maraš, piano
Šule Jovović, guitar
Enes Tahirović, piano
Pedja Milutinović, drums
and many more…
"Made in New York Jazz Festival, Montenegro" is the European sequel of Made in New York Jazz Festival, which is held annually at the Tribeca Performing Arts Center, NYC. The founding company of the Made In New York Jazz Festival is Made In New York Jazz Competition. In cooperation with Montenegrin company Rabbit Records, every year after the New York premiere there is special edition of the prestigious festival in Europe