The Made In New York Jazz Competition: New Features Set the Stage for Musicians to Shine Online
Date 11.07.2023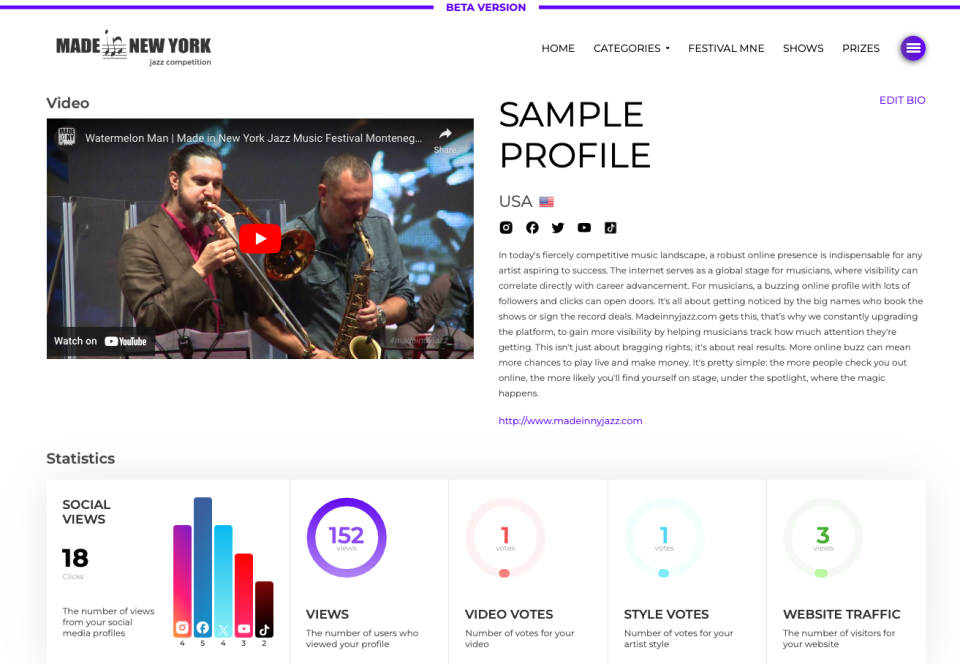 In today's fiercely competitive music landscape, a robust online presence is indispensable for any artist aspiring to success. The internet serves as a global stage for musicians, where visibility can correlate directly with career advancement. For musicians, a buzzing online profile with lots of followers and clicks can open doors. It's all about getting noticed by the big names who book the shows or sign the record deals. Madeinnyjazz.com gets this, that's why we constantly upgrading the platform, to gain more visibility by helping musicians track how much attention they're getting. This isn't just about bragging rights; it's about real results. More online buzz can mean more chances to play live and make money. It's pretty simple: the more people check you out online, the more likely you'll find yourself on stage, under the spotlight, where the magic happens.
Now, when musicians sign up for the competition, they can log into their profiles using their email and password. What's new is what they'll find once they log in:
See Who's Watching: Musicians can now see how many people have looked at their profile. This lets them know how popular they are getting.
Track Your Votes: They can see how many votes they've received in the competition. It's like seeing your score in a game, which can be pretty exciting.
Website Traffic: The musicians can check how many fans are clicking over to their personal websites from their competition profile. It's a good way to see if people want to learn more about them.
Social Media Boost: Here's a big one — participants can add links to their social media accounts right on their profiles. This means they can get more followers and see how many clicks each social media link gets. It's great for musicians to grow their fan base and keep track of which social platforms are working best for them.
The Made In New York Jazz Competition has also introduced two groundbreaking, new features to its website, enhancing the user experience for both artists and fans.
The "ARTIST STYLE" section is a brand-new addition where artists can showcase their unique fashion and stage presence. This visual portfolio allows jazz musicians to upload photos from their performances, providing a gallery of their personal style and on-stage flair. It's not only about music anymore; it's about the complete package – the look, the feel, and the presence. Fans get to vote on these style elements separately, just as they do with music, allowing artists to engage with their audience on another level. Each participant can view the popularity of their style with dedicated stats, adding an extra layer to the competition and giving fans more ways to connect with their favorite musicians.
The second feature takes advantage of promoting live shows. Participants can now upload details about their upcoming gigs, complete with eye-catching graphics and necessary links. This offers a significant promotional boost, helping artists fill venues by reaching out to the extensive community of jazz enthusiasts who follow the competition. Not only does this increase visibility for their events, but it also allows fans to keep track of and attend live performances. This feature is a potent tool for conversion, turning website visits into real-time audience numbers at shows.
These updates are not just about competing; they're about helping musicians stand out and build their careers. By knowing how many people are watching and voting, and by connecting with fans on social media, musicians can benefit from each update on the new website.
And let's not forget, the competition has legendary judges like Lenny White, Randy Brecker, and Mike Stern. They know jazz inside out, so getting a thumbs up from them means a lot.
In short, the Made In New York Jazz Competition is making some smart moves to help jazz musicians get noticed by more people all over the world. With these new tools, the competition is more than just a contest; it's a launchpad for jazz stars of tomorrow.