Valera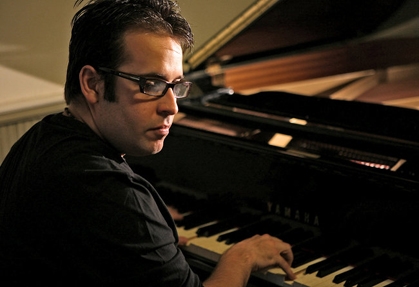 Based in New York City, Grammy nominated pianist and composer Manuel Valera was born and raised in Havana, Cuba. Since arriving in NYC, he has become
well known in the NYC modern jazz scene, garnering national reviews and lending his talents as a pianist and composer to such notable artist as Arturo Sandoval, Paquito D'Rivera, Brian Lynch, Dafnis Prieto, Jazz at Lincoln Center Orchestra, Jeff "Tain" Watts, Chris Potter, Dave Binney, Adam Rogers, Mark Turner, John Benitez, Samuel Torres, Joel Frahm, Yosvany Terry and Pedro Martinez among many others.
This dynamic and prolific artist has recorded six cds as a bandleader. His critically acclaimed debut cd in 2004 Forma Nueva (MAVO) features John Patitucci, Horacio "El Negro" Hernandez Bill Stewart and Seamus Blake. Historia (Fresh Sounds New Talent, 2005), a jazz quartet with Antonio Sanchez, Seamus Blake and Ben Street. His third release Melancolia (MAVO,2006)— employs a string quartet incorporating world rhythms and classical concepts in the jazz idiom. Vientos (Anzic, 2007),representing a new working quartet, features bassist James Genus, drummer Ernesto Simpson, saxophonist Joel Frahm and a woodwind quartet. His fifth and trio recording Currents (MaxJazz 2009) features Ernesto Simpson and James Genus.
In addition, he has been awarded several grants for composition most notably Chamber Music America's New Jazz Works and the ASCAP Young Jazz Composer Award. Manuel has travelled the world performing in over 30 countries at some of the biggest international venues and festivals.
2013 Manuel Valera / New Cuban Express
the recording New Cuban Express—which marks Valera's sixth record as a leader and a new direction in his playing and writing—consists of eleven Valera originals and two covers, focusing on material derived from the Afro-Cuban tradition.
MANUEL VALERA | Piano, Fender Rhodes, Keyboards YOSVANY TERRY | Alto and Soprano Saxophone, Chekere TOM GUARNA | Electric and Acoustic Guitar
JOHN BENITEZ | Bass
LUDWIG AFONSO | Drums MAURICIO HERRERA | Percussion
the band Manuel Valera and the New Cuban Express is a project deeply influenced by the experiments of Cuban artists from the 70s and 80s. While inspired by artists Irakere, Emil- iano Salvador and AfroCuba, this working band creates a unique and distinctive style that mixes elements of Jazz, R&B, fusion and funk with Cuban music styles.